Microsoft Azure AZ-104 Training Video Tutorial
This Self Paced Course of Microsoft Azure Training from Attari Classes will help you to prepare for the Microsoft Azure Administrator Certification – AZ 104, You will learn skills like IAM, Subscriptions Management, Virtual Network, Storage, Networking, Azure AD, Virtual Machines, Load Balancer, VPN, Disaster Recovery, Migrating servers to Azure, Integrating on-premise networks with Azure Cloud, Cost Saving Skills and much more. You will work with various services of the Azure Cloud platform and create highly scalable, highly available, and fault-tolerant design. Learn from top-rated mentors to become an Azure Certified Administrator. Enroll for this Microsoft Azure course today and get a head start in your career.
Bestseller
4.9
(467 ratings) 1680 students enrolled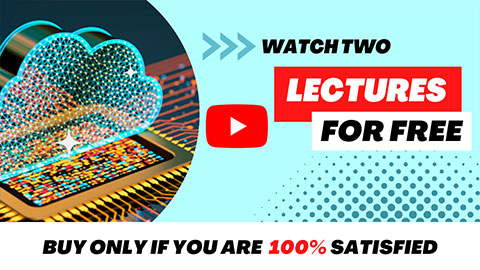 Total Savings $55
This course includes:
40+ hours of Live interactive training session videos
How to Create Azure Free Tier Account for Practical's, all info is available in LMS
LMS is Updated Regularly so you get access to New Topics which are added/modified
You will get a Training Certificate from Attari Classes
What you'll learn
This Azure Training Course will help you Master the skills needed to operate the Cloud Infrastructure and also prepare you for Azure Administrator Certification Exam AZ 104
You will get hands-on experience on Networking , Storage, Compute , Virtual Network(VNet), VPN, Firewall, DNS, Traffic Manager, Site Recovery, Virtual Machine, Active Directory, Access Management , Identities, Scaling , DNS, Load Balancing, AD Connect, Migration and much more
Requirements
Just Watch the Demo Lecture and 1st Lecture for Free, if u are able to understand, Go ahead and purchase
This course will surely help you to make a bright career in Azure Cloud

Why Azure LMS?
We have Live Recorded Lectures of training in LMS, which helps in resolving your queries as many queries and resolutions are recorded in LIVE lectures
These are Recorded Lectures of Live Hands-on Practical Training, so you can understand and perform live practical's on Cloud for FREE by referring LMS

Our courses have a proper course flow where we teach from basics upto advance (you do not get this in 99% Online Video Tutorial)

You also have the option of upgrading to Live Instructor Led Training by just paying difference in Fees

LMS is Updated Regularly so you get access to New Topics which are added/modified

Course content
Expand all sections
Collapse all sections
Shareable on