VMware vSphere Training Video Tutorial
This Self Paced Course from Attari Classes will help you to prepare for the VCP 8 certification exam, you will be able to effectively architect and deploy server on vSphere 8. You will learn ESXi, vCenter, vMotion, SVMotion HA, DRS, FT and much more. You will work with various components of VMware and create highly available and fault-tolerant design. Learn from top-rated mentors to become a VMware administrator. Enroll for this VMware VCP course today and get a head start in your career.
Bestseller
4.9
(837 ratings) 1683 students enrolled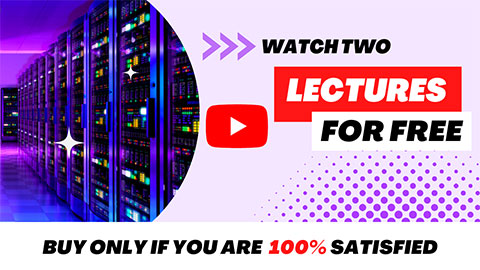 Total Savings $65
This course includes:
40+ hours of Live interactive training session videos
No need to purchase hardware for Labs

Learn How to Register for Free Labs

LMS is Updated Regularly, get access to New Topics which are added/modified

You will get a Training Certificate from Attari Classes

What you'll learn
How to install and configure vCenter, ESXi hosts, and Virtual Machines (VM)

How to configure great

vCenter features such as vMotion, SVMotion, DRS, High Availability, and Fault Tolerance
How to configure the Network and Storage components of VMware
You will be able to Design and Administer a vSphere 8 environment
You will be able to troubleshoot everyday vSphere related issues
By the end of this course you will be a professional VMWare vSphere administrator and be able to apply for IT jobs
Requirements
This Course is related to Virtualization of Servers, So Knowledge of any Server Operating System is required
Just Watch the Demo Lecture and 1st Lecture for Free, if you are able to understand, Go ahead and purchase
This course will surely help you to make a bright career in Server Virtualization
Why VMware LMS?
We have Live Recorded Lectures of training in LMS, which helps in resolving your queries as many queries and resolutions are recorded in LIVE lectures
These are Recorded Lectures of Live Hands-on Practical Training, so you can understand and perform live practical's on Cloud for FREE by referring LMS

Our courses have a proper course flow where we teach from basics upto advance (you do not get this in 99% Online Video Tutorial)

You also have the option of upgrading to Live Instructor Led Training by just paying difference in Fees

LMS is Updated Regularly so you get access to New Topics which are added/modified

Course content
Expand all sections
Collapse all sections
Shareable on